The Musts and Lusts List
Posted on October 16 2013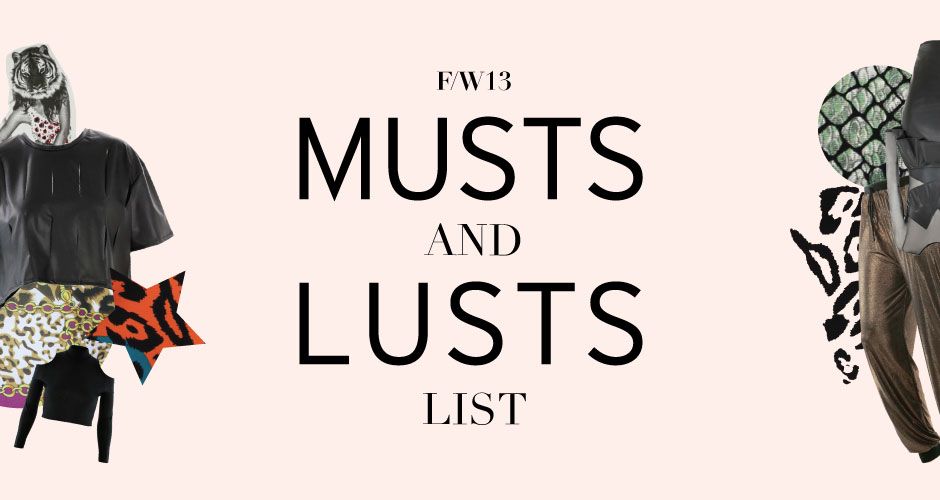 Why is it so hard to shop for the latest season? So many choices, yet, how do you choose?
We break down the season into a list of 'Musts' and 'Lusts'.
'Musts' are the essential key elements that you will want to add to your wardrobe to keep it up to date and versatile.
'Lusts' are this season's greatest obsessions, the elements that define F/W13.
Snag a piece from the 'Lusts' list and you'll stay ahead of the pack this season.

Prints, you pick it, and go where it.
Don't be afraid to mix them up. Playful prints will add personality to your look that is unique to you and your mood.
This F/W we see lots of animal prints, along with vintage influences, such as plaid, paisley, and bold geometrics.

Proportion is essential to design, and it's essential to your wardrobe for this season.
Don't think it takes a certain figure to pull off a crop top tee.
Rather, a crop top can create those flattering breaks in your figure that you are looking for.
Wear it with high waist pants, a flirty A-line mini, or a pair of joggers.

The tomboy has never been so chic, or sexy!
Sporty pieces are key pieces in keeping your look fresh for FW13. Add a jogger, or a vintage bomber to your basics.
Remember, balance the sporty with feminine details, such as heels or metallic accessories.

It works alone, it works together. That's the beauty of a 2-piece.
We saw a lot of them back in the day, and yes, their back, and as chic as ever.
With modern updates in fit and print, the 2-piece is flattering and statement making when worn together.
Yes, the celebs digging this one too.

It's the finishing touch, what makes your look polished.
This season, we cannot get enough of (faux) leather, metallics, and fur.
Keep it simple when using texture, and combine them with classic pieces.